Warning
: Attempt to read property "ID" on int in
/home/cigdubai/public_html/wp-content/themes/cig/single.php
on line
30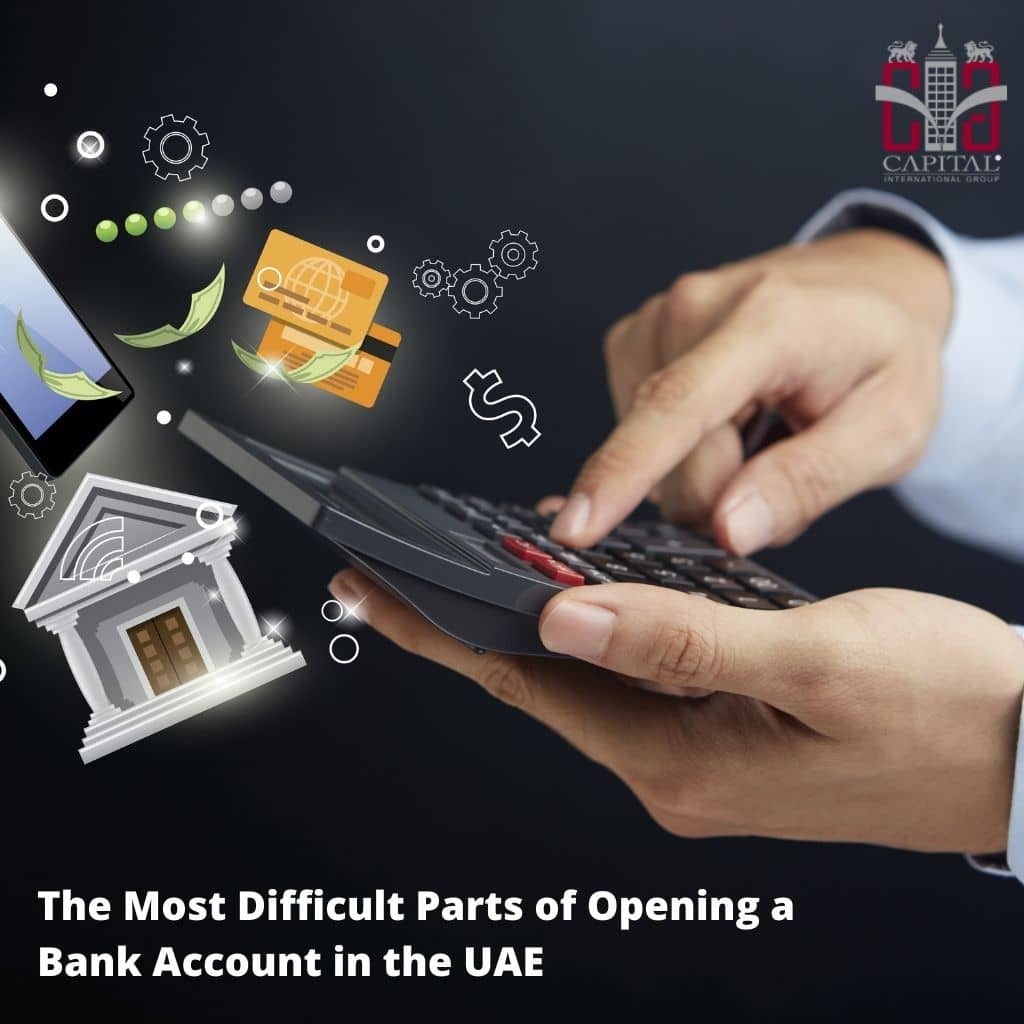 The Most Difficult Parts of Opening a Bank Account in the UAE
One of the most challenging challenges that company owners encounter when starting a business in Dubai and the UAE is creating a business bank account. To create a corporate bank account in the UAE, you must meet a number of strict requirements.
For those entrepreneurs wanting to start a new business in the UAE, strict restrictions and stringent international laws make obtaining a bank account a time-consuming procedure.
Major Obstacles to Opening a Company Bank Account in the United Arab Emirates
Strict Regulatory Requirements & Pressure to Comply:
Banks must adhere to the UAE's commitment to combating financial crimes such as money laundering and terrorist financing. The pressure on banks to comply with regulatory measures such as anti-money laundering (AML) programs and counter-terrorist financing (CFT) exacerbates the difficulties of creating bank accounts in the UAE. As a result, banks in the UAE are under a lot of pressure from regulatory and inspection organizations, which forces them to be harsh with consumers who are attempting to create an account for the creation of a corporation.
Client's business history:
While applying for a bank account, you must demonstrate your credibility to the bank. The company's founder must demonstrate that he or she has extensive knowledge of the industry in which the company will operate. Previous business history aids in expediting the procedure by establishing a person's or company's trustworthiness and debt history.
Physical Office Space Shortage:
Banks in the UAE require that your business have a physical location. Some banks will send an inspection officer to the address shown in the documentation to verify that your firm has a physical presence there.
UAE Resident Visa:
A resident visa is required by most banks in the UAE. Furthermore, several banks in the UAE may need you to furnish a local address.
It's also a good idea to see whether the bank asks you to provide proof that your company's stockholders have valid residency permits. Some banks need at least one shareholder to provide confirmation of this.
Inadequate information and a shaky business plan:
When starting a business in Dubai or the UAE, having a solid business plan is essential. Banks in the United Arab Emirates need to know your company's financial strength.
Banks will be happy to look through biographies of the founders, a financial strategy for a firm that is opening a bank account, possible suppliers and anticipated customers, and so on. Failure to provide a sound business plan and other financial information demonstrating the company's financial integrity may cause the process of creating a business bank account in the UAE to be further delayed
Doing Business with High-Risk Nations
If you do business with sanctioned or high-risk nations, you may have difficulty acquiring a bank account for your firm in the UAE. Financial Institutions (FIs) in the UAE are expected to follow laws that address the dangers of money laundering and terrorism financing that come with doing business with high-risk nations.
FIs must also implement all specific measures and countermeasures relating to High-Risk Countries as defined by the National Committee for Combating Money Laundering, Terrorism Financing, and Illegal Organizations, including those relating to the implementation of UN Security Council and Financial Action Task Force decisions (FATF).
This necessitates a higher degree of scrutinies, such as comprehensive supervision of the Business Relationship, higher levels of internal reporting and management approval, more frequent transaction monitoring, and more regular review/updating of clients due to diligence information. When working with high-risk nations, financial institutions must consider creating suitable internal rules, processes, and controls.
Sanctioned nations include Cuba, Myanmar, Iran, North Korea, Ukraine (Crimea), Sudan, and Syria.
In the process of creating a corporate bank account in the UAE, Nigeria, Somalia, Ethiopia, Serbia, Yemen, Kenya, Uganda, Saint Kitts, and Nevis, Anguilla, Malta, Cyprus, Zimbabwe, China, and Libya are regarded significant high-risk nations.
High-Risk Individuals
Being a citizen of a high-risk nation might be a major roadblock to obtaining a bank account in the UAE. Sanctions on a certain person may be imposed by governments all over the world.
Transferring money to and/or from Specifically Designated Nationals is forbidden by banks (SDNs). Individuals can be SDNs, and they can be situated anywhere on the planet. Human rights violations, nuclear proliferation, terrorism, narcotics trafficking, transnational criminal organizations, and sanctioned regimes may all be related to SDNs.
Non-resident Russians in the UAE are now unable to make transfers to Russia. The banks do not provide a USD account to non-resident Syrians. Meanwhile, non-resident Chinese are temporarily barred from doing business in the UAE in the areas of import and export, general commerce, and textiles.
Minimum Balance Requirement:
A minimum amount is required by most banks for all corporate accounts. Depending on the bank you choose to create an account with, the minimum amount ranges from AED 25,000 to AED 500,000. In the case of certain banks that are lenient with the minimum account balance criteria, it is also difficult to get the services of a relationship manager.
Opening a bank account for a business in the United Arab Emirates is a time-consuming procedure for entrepreneurs looking to start a business in the area. This is where CIG can assist. With a thorough understanding of international and local rules, as well as considerable experience dealing with banks for a variety of business accounts. CIG is regarded as one of the leading business advisors in Dubai and the UAE, providing company bank account creation services.